I have been poking at [Adobe][adobe]'s support pages recently. They have RSS feeds to which you can subscribe in order to learn when [new support documents have been published][rss]. Today I happened to refresh the feed in those moments before someone bothered to proof-read what they were publishing.
> Please do not publish this doc without checking with Anita. I'm in the process of reviewing and editing it. Thanks. AnitaWhat's coveredIntroduction to the GPUGPU features in Photoshop and Adobe Bridge…
Here's how it looked in [NetNewsWire][nnw]: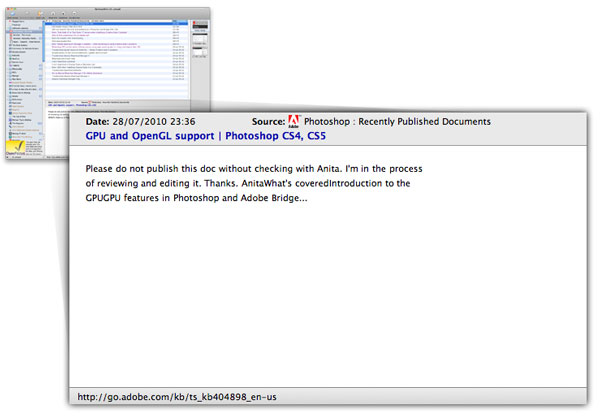 Those run-together words in the feed are a fair example of the lack of attention to detail in the design of [the Adobe support site][support]. There's good stuff on there, but finding it is frustrating and anyway wouldn't you rather download a demo of something with [motherfucking Akamai download manager][akamai]?
Meanwhile Anita must have said to go ahead because [there's no mention of her on that article's page now][kb].
[adobe]: http://www.adobe.com/
[nnw]: http://netnewswireapp.com/
[support]: http://www.adobe.com/support/
[rss]: http://www.adobe.com/support/rss/
[akamai]: http://kb2.adobe.com/cps/402/kb402065.html
[kb]: http://kb2.adobe.com/cps/404/kb404898.html